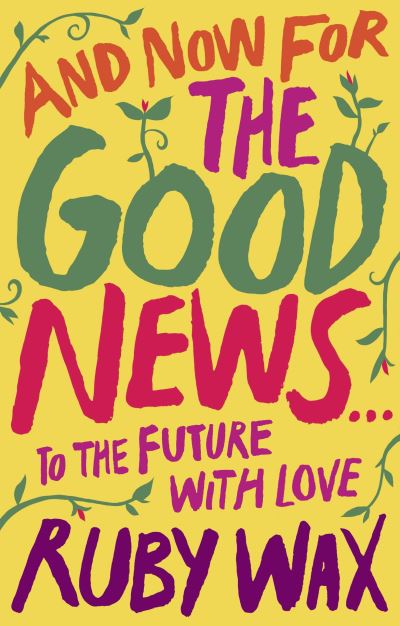 And Now for the Good News…
£14.99
Dear Reader, I know what you're thinking, is it some kind of macabre joke? Has she been in a coma? How can Ruby Wax write a book about good news when the world is facing the worst disaster since the Plague? Let me explain. I began writing in 2018, back when the world's worries were somewhat different. Climate change, greedy bankers, exam results, crap politicians, mental health: these are still huge issues, but even the ancient soothsayers reading pig entrails couldn't have predicted this. This is my new mission: to share the green shoots of hope peeping through the soil of civilisation.
ISBN:

9780241400647
Author: Wax, Ruby
Publisher: Penguin Life
Publication Date: 17th September 2020
Imprint: Penguin Life
Cover: Hardback
Dewey: 306 (edition:23)
Pages: 243
Language: English
Readership: General - Trade / Code: K
Category: Social Sciences
Subjects: Coping with stress, Memory improvement & thinking techniques, Mind, body, spirit: meditation & visualisation, Mind, Body, Spirit: thought & practice, Philosophy of mind, Popular psychology, Self-help & personal development
'The book the world NEEDS right now by one of my heroes' – Scarlett Curtis

'I think at this point in time we're all in need of as much good news as we can get! Ruby can always be guaranteed to lift your spirits' – Annie Lennox on Twitter
______________
You would be forgiven for thinking 2020 was not the year for a book about good news. But now might be the time we need it most. Ruby Wax is here to reassure us with her brand new book, And Now For The Good News. This is her positivity prescription, showing us the green shoots of optimism and change forcing their way up and into the sunlight.
She has spent the last three years speaking to the inspiring people who are spearheading the latest innovation and influencing a brighter future for humanity. From the communities being designed to eradicate loneliness and the companies putting their employees' happiness first, to the AI technology teaching children with learning difficulties and taking literacy to levels higher than ever before.
Ruby's here to show you that behind the clouds, the sun still shines. So, do you want the good news?
______________
'A new book by Ruby is in itself Good News! It sounds like a tonic for the universal malaise' – Ian McKellen on Twitter
'In a world of relentlessly worrying news, finally a moment of good. I adored reading And Now for the Good News – truly there is hope' – Emma Freud on Twitter
'This book couldn't be more needed right now!' – Nigella Lawson on Twitter
'I am reading and finding on every page a delicious morsel' – Celia Imrie on Twitter
'I adored interviewing Ruby: she has such a fizzing, uniquely vibrant and clever way of thinking about things. And I've wanted her on the podcast for ages because she does such important work' – Elizabeth Day
In stock