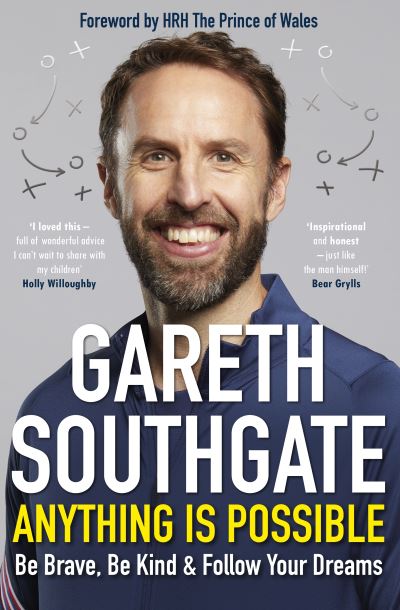 Anything is Possible: Be Brave, Be Kind and Follow Your Dreams
Out of stock
An inspirational book of life lessons for young people and parents, by England Manager Gareth Southgate. Two summers ago at the World Cup, Gareth's leadership and his 'anything is possible' mind-set helped bring the nation together, leading the England Men's team to one of their best performances at a tournament in decades. Gareth's humble, positive and compassionate style struck a chord with youngsters, parents and people of all ages. In this book, Gareth shares his thoughts on how young people can thrive and achieve their own dreams.
THE PERFECT EURO 2020 READ from the manager who took England to their first major final in 55 years

'Fantastic … I've told my son Noah, aged 11, you have to read this … I can't tell you how much I loved it because it talks about confidence, and I struggled with confidence' CHRIS EVANS
'I loved this – full of wonderful advice I can't wait to share with my children.' HOLLY WILLOUGHBY
'Never puts a word wrong. Isn't Gareth Southgate simply the most inspiring leader in England?' KRISHNAN GURU-MURTHY
'Gareth Southgate sticks out a mile in public life because he is thoughtful, intelligent, generous, courageous and humane.' SATHNAM SANGHERA

England manager Gareth Southgate has spent his career inspiring young people to think positively and reach their best, from the England men's and Under-21 team to his work with the Prince's Trust.
____________________
YOU have the potential to make ANYTHING POSSIBLE.
In this hugely positive and helpful book for readers aged 12 and up, Gareth gives YOU the tools to be confident, resilient and to overcome your own challenges for your exciting journey ahead, wherever it takes you.
BE BRAVE
Bravery is not just the kind of heroic act that earns a medal. It's the quality we need to step out of our comfort zones and take on new challenges.
BE KIND
A force for good that comes from the heart, kindness changes lives. It opens up opportunities and can be our greatest strength.
FOLLOW YOUR DREAMS
We all have a story to tell in life. It's down to us what it will be about. So, let's begin writing YOUR STORY – and make it one that truly shines.
____________________
'Inspirational and honest – just like the man himself.' BEAR GRYLLS
'An inspirational book' THE SUN
'It really is a great book … lots of really nice tips for confidence, staying strong, glass-half-full mentality, what makes a good team' CHRIS MOYLES
'I feel that the lessons you're sharing, the wisdom that you're sharing, has relevance for all of us, whether football fans or non-football fans. And that's because these are some quite core lessons for life' DR RANGAN CHATTERJEE
'Southgate's analytical mind is stamped across the pages of the book; his meticulousness, his love of clarity and process. He offers tips and life lessons – focus on what you can control, do not compare yourself with others, dare to try even if it means slipping up. The tone is easy, upbeat and the messages are drummed home gently, always linking to one another … what shines through is the warmth and inclusivity of his leadership style.' THE GUARDIAN
Out of stock