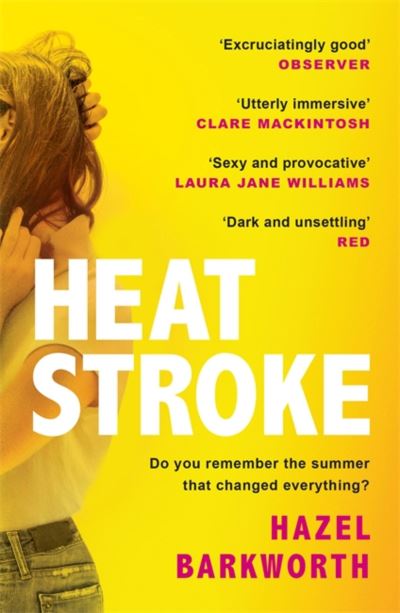 Heatstroke
£8.99
At the beginning of a stifling, sultry summer, everything shifts irrevocably when Lily doesn't come home one afternoon. Rachel is Lily's teacher. Her daughter Mia is Lily's best friend. The girls are fifteen – almost women, still children. As Rachel becomes increasingly fixated on Lily's absence, she finds herself breaking fragile trusts and confronting impossible choices she never thought she'd face. It wasn't supposed to happen like this.
DO YOU REMEMBER THE SUMMER THAT CHANGED EVERYTHING?
'A thrilling look at mothers and daughters, adolescence, sex, suburbia and secrets' NELL FRIZZELL
'Unsettling, challenging and utterly immersive' CLARE MACKINTOSH
'A sultry, stifling debut exploring power, consent and womanhood' COSMOPOLITAN

—
Rachel and her daughter have never had secrets. Until now.
Lily is somewhere she shouldn't be. With someone she shouldn't be with.
Mia misses her best friend. But she let her down.
In the middle of a stifling heatwave, Rachel, Lily and Mia stand on the edge of irrevocable change. Soon, just one burning question will remain… how could they let things go this far?
A provocative debut novel for fans of My Dark Vanessa, The Push by Ashley Audrain and Megan Nolan's Acts of Desperation.
—
'Barkworth is excruciatingly good' OBSERVER
'I am addicted… dark and twisty with beautiful, poetic writing' EMMA GANNON
'Gripping and intensely atmospheric… you won't want to put this down' HEAT magazine's READ OF THE WEEK
'Stylish and sensual' KIRAN MILLWOOD HARGRAVE
'Twists, turns and revelations in all the right places' EVENING STANDARD
'A stunning new voice… I couldn't tear myself away' ERIN KELLY
'Sexy and provocative' LAURA JANE WILLIAMS
'Pulls you into its sweaty interior and keeps you gripped' RENEE KNIGHT
'Compulsive, sticky and full of gorgeous writing' KIRSTIN INNES
'Read next if you loved Three Women by Lisa Taddeo' WHISTLES newsletter
In stock