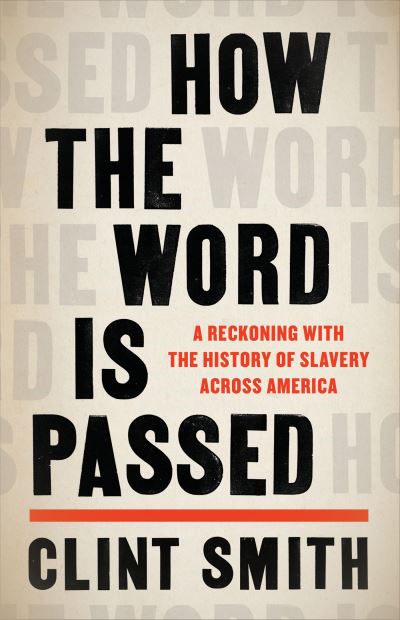 How the Word Is Passed
£20.00
In its simplest distillation, 'How the Word is Passed' is the story of Clint Smith's visits to seven places that the work and lives of enslaved people built. Those places are Monticello in Virginia; Angola Prison in Louisiana; the Whitney Plantation in Louisiana; Blandford Cemetery in Virginia; Galveston, Texas, where the first Juneteenth was celebrated; Wall Street; and Goree Island, Senegal. 'How the Word is Passed' is much more than a travelogue. What Clint Smith does is show us how the history of slavery is not only relevant today but alive today. He does this by revealing how slavery is hidden in plain sight, introducing us to the men and women who have devoted their lives to understanding what so many of us do not know and, finally, by letting us walk in his shoes as he learns these truths.
LONGLISTED FOR THE NATIONAL BOOK AWARD FOR NON-FICTION
AMAZON BEST BOOKS OF 2021

'A beautifully readable reminder of how much of our urgent, collective history resounds in places all around us that have been hidden in plain sight.' Afua Hirsch, author of Brit(ish)
Beginning in his hometown of New Orleans, Clint Smith leads the reader on an unforgettable tour of monuments and landmarks – those that are honest about the past and those that are not – that offer an intergenerational story of how slavery has been central in shaping America's collective history.
It is the story of the Monticello Plantation in Virginia, the estate where Thomas Jefferson wrote letters espousing the urgent need for liberty while enslaving more than four hundred people. It is the story of the Whitney Plantation, one of the only former plantations devoted to preserving the experience of the enslaved people whose lives and work sustained it. It is the story of Angola, a former plantation-turned-maximum-security prison in Louisiana that is filled with Black men who work across the 18,000-acre land for virtually no pay. And it is the story of Blandford Cemetery, the final resting place of tens of thousands of Confederate soldiers.
A deeply researched and transporting exploration of the legacy of slavery and its imprint on centuries of American history, How the Word Is Passed illustrates how some of America's most essential stories are hidden in plain view – whether in places we might drive by on our way to work, holidays such as Juneteenth or entire neighbourhoods like downtown Manhattan, where the brutal history of the trade in enslaved men, women and children has been deeply imprinted.
A Number One New York Times bestseller, How the Word is Passed is a landmark book that offers a new understanding of the hopeful role that memory and history can play in making sense of the United States. For anyone who loved Hamilton but wanted to know more and fans of Brit(ish) and Natives.
What readers are saying about How the Word is Passed:
'How the Word Is Passed frees history, frees humanity to reckon honestly with the legacy of slavery. We need this book.' Ibram X. Kendi, Number One New York Times bestselling author
'In re-examining neighbourhoods, holidays and quotidian sites, Smith forces us to reconsider what we think we know about American history.' Time
'A history of slavery in this country unlike anything you've read before.' Entertainment Weekly
'A beautifully written, evocative, and timely meditation on the way slavery is commemorated in the United States.' Annette Gordon-Reed, Pulitzer Prize-winning author
'An essential consideration of how America's past informs its present.' Publishers Week
'A richly provocative read.' BookPage
In stock