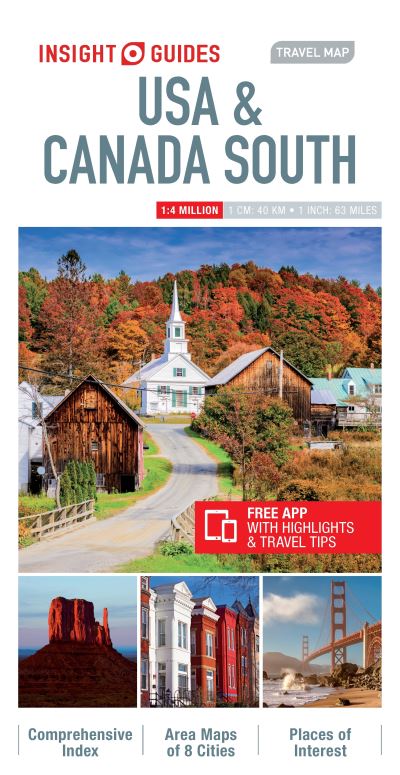 Insight Guides Travel Map USA & Canada South (Insight Maps)
£6.99
Insight Guides Travel Map USA & South Canada Travel made easy. Ask local experts.This detailed travel map is all you need to plan your route and navigate your way around USA & South Canada; also includes a comprehensive index and a fabulous free app.Features of this travel map to USA & South Canada:- Drawn to a scale of 1:4 million, showing the entire area, complete with a comprehensive index- Ideal for route planning before and during your trip- Places of interest highlighted using pictorial symbols- Handy distance indicators give distances to the nearest town and other major locations- Intermediate driving distances marked on main roads- City plans of Chicago, Los Angeles, Miami, New York, San Francisco & Washington D.C. – Extensive legend shown in 4 languages- Innovative and unique extras: a free app with top travel tips, must-see places, restaurants and hotelsYou may also be interested in: Insight Guides USA on the Road, Insight Gui
Insight Guides Travel Map USA & South Canada
Travel made easy. Ask local experts.
This detailed travel map is all you need to plan your route and navigate your way around USA & South Canada; also includes a comprehensive index and a fabulous free app.
Features of this travel map to USA & South Canada:
– Drawn to a scale of 1:4 million, showing the entire area, complete with a comprehensive index
– Ideal for route planning before and during your trip
– Places of interest highlighted using pictorial symbols
– Handy distance indicators give distances to the nearest town and other major locations
– Intermediate driving distances marked on main roads
– City plans of Chicago, Los Angeles, Miami, New York, San Francisco & Washington D.C.
– Extensive legend shown in 4 languages
– Innovative and unique extras: a free app with top travel tips, must-see places, restaurants and hotels
You may also be interested in: Insight Guides USA on the Road, Insight Guides Canada
About Insight Guides: Insight Guides is a pioneer of full-colour guidebooks, with almost 50 years' experience of publishing high-quality, visual travel guides with user-friendly, modern design. We produce around 400 full-colour print guide books and maps, as well as phrase books, picture-packed eBooks and apps to meet different travellers' needs. Insight Guides' unique combination of beautiful travel photography and focus on history and culture create a unique visual reference and planning tool to inspire your next adventure.
In stock