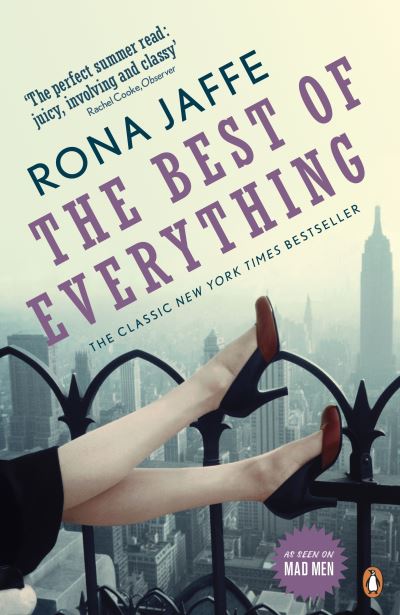 The Best of Everything
£8.99
When it was first published in 1958, Rona Jaffe's debut novel electrified readers who saw themselves reflected in its story of five young employees of a New York publishing company.
Rona Jaffe's frank, scandalous and thrilling 1958 novel, The Best of Everything follows a group of young women as they negotiate office romances, workplace politics, broken engagements, tiny apartments, lecherous bosses, heartbreak and lasting friendship, published in Penguin Modern Classics.
New York, 1952: Four young women have come to the city: to find love, to build their careers and to savour the indefinable optimism of the times. Caroline is the college graduate, determined to escape the typing pool and become an editor. April is the beautiful country girl with a penchant for disastrous romances. Aspiring actress Gregg is tangled in a dangerous love affair with a playwright; and divorcée Barbara writes about lipsticks by day and cares alone for her daughter by night. Famously bedtime reading for Mad Men's Don Draper, The Best of Everything portrays the lives and passions of these ambitious young women with intelligence, affection, and prose as sharp as a paper cut.
Rona Jaffe (1931-2005) was born in Brooklyn, New York, and grew up in the affluent Upper East Side of Manhattan. Jaffe wrote her first book, The Best of Everything, while working as an associate editor at Fawcett Publications in the 1950s. Published in 1958, it was later made into a movie, starring Joan Crawford. During the 1960s she wrote cultural pieces for Cosmopolitan magazine. Jaffe wrote sixteen novels during her career, including the controversial Mazes and Monsters (1981), adapted into a film starring Tom Hanks.
If you enjoyed The Best of Everything, you might like John Dos Passos' Manhattan Transfer, also available in Penguin Modern Classics.
'It harks back to a saner time when choosing progress and modernity was as straightforward as ordering dinner – "Two Scotches with water on the side, and two steaks"'
Julie Burchill, author of Ambition
'Decades before Sex and the City, Jaffe recorded the minutiae of women's lives and broke powerful taboos'
Joan Smith, Independent
In stock