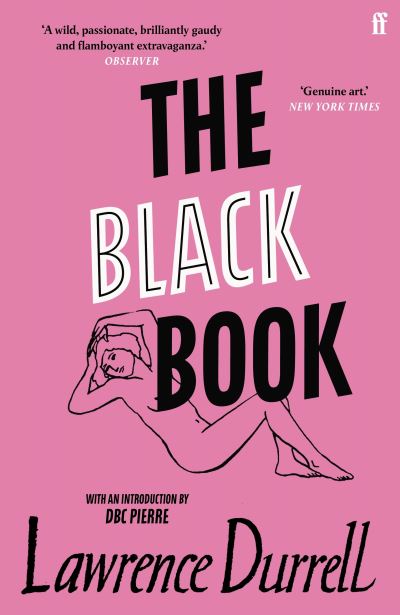 The Black Book
£9.99
Durrell's third novel is the story, told from the inside, of the lives and loves of a group of struggling writers and artists in a seedy London hotel. Controversial at the time because of its sexual frankness, 'The Black Book' was finally published in its complete form only through the efforts of Henry Miller.
'The most exhilarating surge of language, style and sordid English manners [in] literature.' DBC Pierre
'A wild, passionate, brilliantly gaudy and flamboyant extravaganza … Richly obscene, energetically morbid, very often very funny … Above all, stylistically and verbally inventive.' Observer
Death Gregory has disappeared, abandoning his diaries in a seedy London hotel. Discovered by Lawrence Lucifer, they depict a clique of intellectuals living a life of squalid debauchery: struggling writers and artists consumed by loves, lusts, and a quest for innovation. But as they satisfy violent appetites of the flesh – and mind – their descent into darkness accelerates …
Written when he was only 24, Lawrence Durrell described his controversial third novel as 'a two-fisted attack on literature by an angry young man of the thirties' in which he 'first heard the sound of my own voice.' First published in Paris in 1938, it was banned in Britain for nearly four decades due to its 'obscenity' (influenced by Durrell's friend Henry Miller). Vivid, surrealist, and haunting, The Black Book peers into the recesses of our souls: and establishes Durrell as a trailblazing stylist.
'Stygian prose … Words like stones, throwing, rockerying, mossing, churning, sharpening, bloodsucking, melting, and a hard firewater flows and rolls through them.' Dylan Thomas
'Genuine art … Lavishly displays Durrell's gift of language … Verbal brilliance.' New York Times

'The first piece of work by a new English writer to give me any hope for the future of prose fiction.' T.S. Eliot

'Durrell's first major work … Its showy brilliance is certainly that of a born writer … Savage and obscene.'Guardian

'Brilliantly strange … It will astonish.' Independent on Sunday
In stock