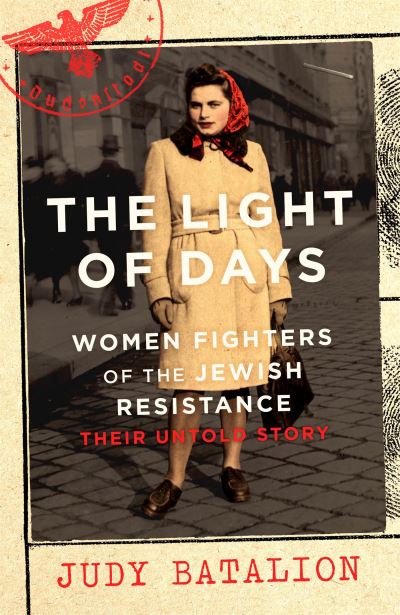 The Light of Days
£20.00
Judy Batalion, the granddaughter of Holocaust survivors, discovered an extraordinary story of women who fought the Nazis. The 'ghetto girls' paid off Gestapo guards, hid revolvers in loaves of bread and jars of marmalade, helped build systems of underground bunkers. They flirted with Nazis, bought them off with wine, whiskey and home cooking, and shot and killed them. They helped the sick and taught the kids, they bombed German train lines and blew up Vilna's water supply. There has been no book in the English language that brings together the incredible and integral stories of Jewish female resistance fighters. A propulsive narrative history, this book will at last tell the true story of these incredible women. It follows a group of intimately bound resistance fighters in the harrowing year of 1943 as they prepare for insurgence and find themselves in ever graver danger.
A NEW YORK TIMES BESTSELLER

'Original and compelling, an untold story of rare and captivating power' Philippe Sands
'A fascinating history about a little-known group who took on the Nazis . . . The individual tales of these courageous young women are remarkable' Independent
'Rescues a long-neglected aspect of history from oblivion, and puts paid to the idea of Jewish, and especially female, passivity during the Holocaust. It is uncompromising, written with passion – and it preserves truly significant knowledge. … Judy Batalion has uncovered a trove of unknown or forgotten information about the Holocaust of genuine import and impact.' Eva Hoffman, TLS
One of the most important untold stories of World War II, The Light of Days is a soaring landmark history that brings to light the extraordinary accomplishments of brave Jewish women who inspired Poland's Jewish youth groups to resist the Nazis.
Witnesses to the brutal murder of their families and the violent destruction of their communities, a cadre of Jewish women in Poland – some still in their teens – became the heart of a wide-ranging resistance network that fought the Nazis.
With courage, guile and nerves of steel, these 'ghetto girls' smuggled guns in loaves of bread and coded intelligence messages in their plaited hair. They helped build life-saving systems of underground bunkers and sustained thousands of Jews in safe hiding places. They bribed Gestapo guards with liquor, assassinated Nazis and sabotaged German supply lines.
The Light of Days at last reveals the real history of these incredible women whose courageous yet little-known feats have been eclipsed by time.
In stock