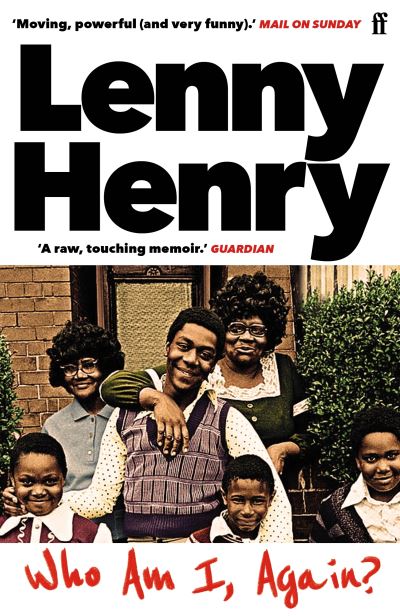 Who Am I, Again?
Out of stock
In 1975, a gangly black 16-year-old from Dudley, decked out in floppy bow tie and Frank Spencer beret, appeared on our TV screens for the first time. So began the transformation from apprentice factory worker to future national treasure of Sir Lenny Henry. In his long-awaited autobiography, Lenny tells the extraordinary story of his early years and sudden rise to fame. Born soon after his Jamaican parents had arrived in the Midlands, Lenny was raised as one of seven siblings in a boisterous, hilarious, complicated working household, and sent out into the world with his mum's mantra of 'H'integration! H'integration! H'integration!' echoing in his ears. A natural ability to make people laugh came in handy. At school it helped subdue the daily racist bullying. In the park, it led to lifelong friendships and occasional snogs.
Sir Lenny Henry is one of the country's best-loved comedians with a career spanning over forty years. Here he writes about his youth for the first time.
You might think you know Lenny Henry. Think again.

'Glorious.' NEIL GAIMAN
'Touching and affectionate.' CANDICE CARTY-WILLIAMS, SUNDAY TIMES
'Heartfelt . . . honest.' OBSERVER
'Moving, powerful and very funny.' MAIL ON SUNDAY

In 1975, a gangly black sixteen-year-old apprentice factory worker from Dudley appeared on our TV screens for the first time. He had no idea he would go on to become a national treasure. Here at last, Sir Lenny Henry tells the revealing and very funny story of his rise to fame.
Surviving a tough family upbringing, along with the trauma of finding out the truth about his father at a young age, Lenny beat the odds. With a riotous warmth and his trademark energy, in Who Am I, Again? he tells the heart-breakingly honest and inspirational story of his youth.
AN i BOOK OF THE YEAR
A BBC RADIO 4 BOOK OF THE WEEK
'So appealing . . . Witty, charming and engagingly self-aware.' i
'Funny, warm and self-deprecating.' THE TIMES
'A raw, touching memoir.' GUARDIAN
'An endearing memoir . . . He's a skilful storyteller.' SUNDAY EXPRESS
'Enjoyable and endearing.' DAILY EXPRESS
Out of stock